Awards and certificates
In 2016, SED Wireless Communications Technology Co., Ltd. won the Excellent Supplier Award of DeutscheBahn, which is the first time that Deutsche Bahn has awarded this award to a Chinese company.

On the evening of September 20 local time in Berlin, Deutsche Bahn (DB) held the "2016 Best Supplier Award ceremony" at the 7th InnoTrans Berlin International Rail Transit Technology Show (InnoTrans).

SED Wireless stood out among more than 30,000 suppliers and was one of the three nominees in the "Infrastructure" category, and finally won the best Supplier award in this category.



Awards and certificates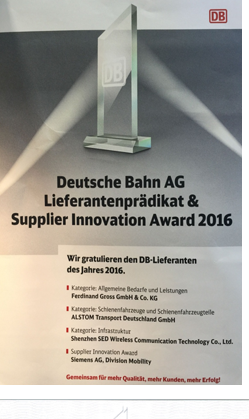 Successful example of Deutsche Bahn Project