The Yawan High-speed Railway (the full name is Jakarta Bandung High-speed Railway) is a flagship project jointly built by China and Indonesia. It starts from the capital Jakarta in the north and connects with the famous tourist city Bandung in the south. The total length is 142 kilometers, and the designed operating speed is 350 kilometers per hour. It is the first high-speed railway in Indonesia and even the whole Southeast Asia. The project was fully started in June 2018 and the first test operation was completed on November 16, 2022. After opening to traffic, the travel time between Jakarta and Bandung will be shortened from more than 3 hours to 40 minutes.
As the leading supplier of GSM-R terminal equipment, SED Wireless stood out in the equipment bidding by virtue of its excellent products and services and successfully awarded the bid for the Yawan High-speed Railway GSM-R handheld terminal and vehicle wireless communication module project. The mass delivery has finished and shows as of symbolic significance for the company's products to continuously expand overseas markets beyond successful business of EU and Africa railways. SED Wireless will continue to deepen the field of rail transport and be committed to providing its global customers with more reliable, intelligent, and safe product solutions.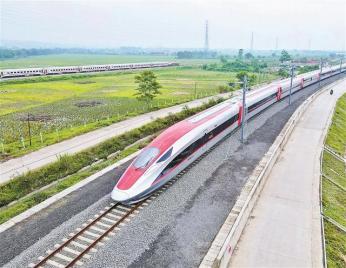 In the test segment of the Yawan high-speed railway, a high-speed train set is conducting a hot slip test on November 9 in Bandung, West Java Province, Indonesia.
SED Wireless Successfully Exploited Southeast Asian Market