GSM-R Operational Purpose Handset with Shunting Mode OPS-810R
1.Basic Feature


SED OPS-810R is a handheld radio designed for the people involved in railway operations including shunting operations. This product is designed to withstand vibrations, shocks, as well as various temperature and humidity conditions and also dust and water defence. It is fitted with high capacity batteries suitable for low temperatures.

General GSM functions: Calls, SMS, GPRS, Phone book, Tools, Settings and Input Methods.

GSM-R Functions: function number management, VBS, VGCS, eMLPP, Group call query, Short number call, Group ID active and deactive, PTT supported, Railway emergency call and Guide for function number call.

Shunting mode:strictly complies with the definition of "shunting mode" in EIRENE FRS8.0.0/SRS16.0.0 and provides the shunting functions described in EIRENE FRS8.0.0/SRS16.0.0, such as LAS, alerting of a controller, static or tilt alarm etc.

The capacity of talking in noisy situation with large power speaker and the visibility of screen display in direct sunshine/night environment can be proivided.
Band: ER-GSM / DCS1800. Include Extended –UIC (E-UIC) frequency band Working Alone Function (Optional): include Tilt mode and No motion mode, Support with GPS and G-sensor.
OTA: Support to access all elementary files of the SIM card.
Double MICs are used for free talk with double sides taking capacity.
Long living time.
Design for dustproof, waterproof and shockproof according with IP65.
Support Working Alone function with GPS and G-sensor.
Support Bluetooth voice calls with bluetooth module.
Easy usage with accessories including clip or clip table.
Adopt anticorrosion design for all the outward interfaces, using anticorrosive material for protection.
into write mode, read mode and update mode Over the.
Air(OTA). All sorts of SMS classes are supported.
SIM Tool Kit: Support (for OTA updates) .
Network Monitoring: Support.
Cell Forcing: Support.
Cell Lock: Support.
eREC (Optional): Support.
Support SYSTEM INFORMATION TYPE 10bis/ter
Support A5/3 encryption algorithm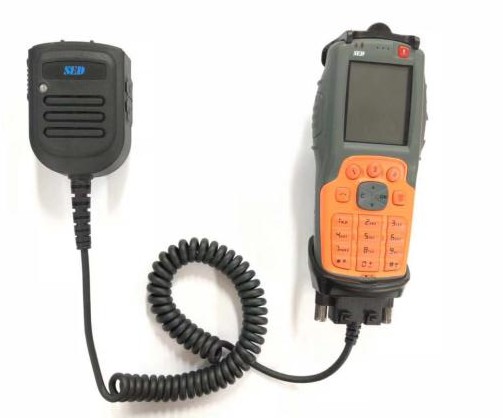 SED OPS-810R with remote control speaker

2.CLIP TABLE WEARING EFFECT CHART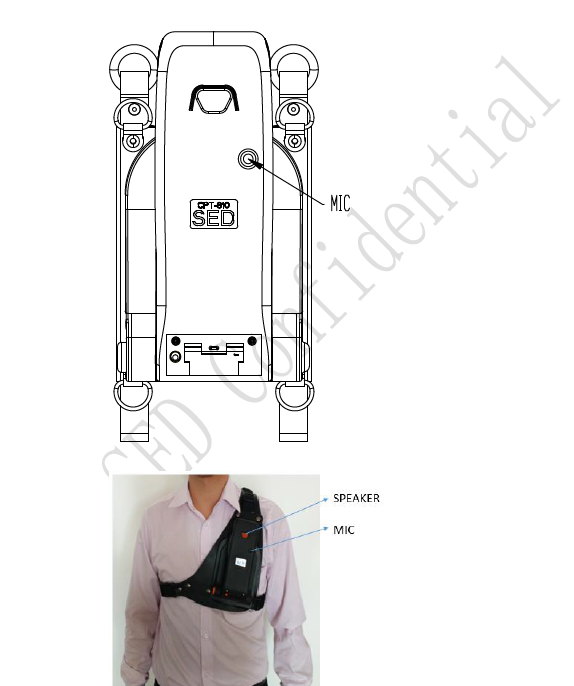 3.Operation details


When the OPS-810R is used in combination with the CLIP_TABLE, it can effectively solve the problem of rainwater blocking mic holes, the operator can use the rear MIC of OPH-810R to talk normally even when it is raining;
On the other hand, if the CLIP TABLE accessory is not used, when the operator falls, the OPS-810R may fly out and there will maybe a certain distance between the OPS-810R and the operator, even if the OPS-810R call is normal, the voice of the operator may not be heard by the remote end. If the CLIP TABLE is used, this problem will not happen. Also, the CLIP TABLE frees the user's hands during use.

If the incoming call is an automatically answered call, the rear microphone will be used by default and it will be hands-free mode.
Normal calls and other situations you need to answer manually. Press SEND key to make or receive a call will default use the front mic, but if you use the PTT button to make or receive a call, the default microphone is the rear mic and hands-free mode.

When the person is in danger, the working alone alarm is triggered, and a high priority call will be sent to the remote control center, at this time, the person can speak through the rear mic without any operation. During working alone alarm mode, the allowed incoming calls will also be answered automatically and use the rear microphone in hands-free mode.